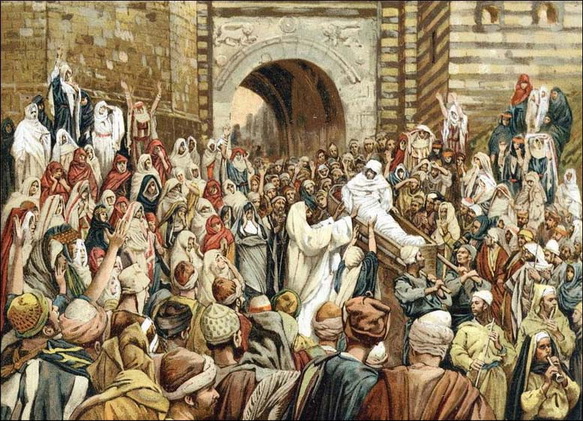 Luke 7:11-17
One time, Jesus went in to a city called Nain with his disciples. Large crowd were also following Jesus.
As Jesus was about to enter through the city gate, a dead man was carried out in a coffin.
The dead man is the only son his mother has. Her husband is dead and so she is a widow. People were following her because her son was dead.
She was crying very badly. Jesus saw the widow at Nain and had pity on her. Jesus said to the widow, "Don't cry anymore."
Then Jesus came and touched the open coffin. The people who were carrying the coffin stopped and stood still.
Jesus said to the dead man, "Get up."
Suddenly, the dead man became alive. He started to breathe and he sat up in his coffin. The man started to talk. Then Jesus showed the man to his mother.
Fear fell on everyone and they gave praises to God.
The people said among themselves, "There is a great prophet in the midst of us. God has come to his people."
The news about Jesus spread through Judea and its neighboring places.
When John's disciples told John, the Baptist the news about Jesus, John called two of his disciples and said to them,"Go to Jesus at once and ask him, 'Are you the Messiah?'"
They came to Jesus, and asked him, "Are you the Messiah?"
At that time, Jesus had healed many people with diseases, demonic oppression, the blind and the lame.
So Jesus answered him, "Go back and tell John, 'The blind can see, the lame can walk, the deaf can hear, and the dead is resurrected.' And blessed is he who would suffer because of Me."
After that, John's messengers departed.