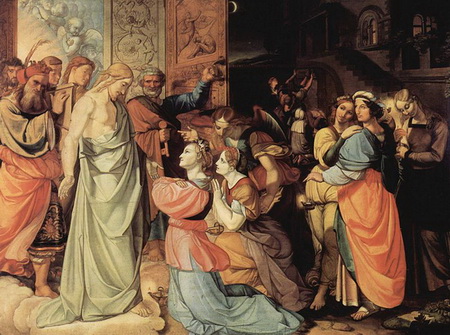 Luke 19:11-27
Jesus told the parable of ten minas to the crowd gathering around Him.
Jesus said, "There was a king who had to travel to a far away country. The king called in ten of his servants and he gave each of them one mina.
He said to them,' Use this one mine and do business until I come back.'
The citizens of the king hated him and don't want him to be king. But the king finally won and received the kingdom.
When the king returned, he said to his servants, 'How much have you gain by trading with the one mine I gave you?'
The servant said to him, 'Master, your mina had earned another ten minas."
The king said to the servant, 'You are a good and faithful servant. I will let you in charge of ten cities."
Yet another servant came to the king and said, 'Master, your mina had earned another five minas.'
The king said to the servant, 'You are a good and faithful servant. I will let you reign over five cities.'
Then another servant came and say to the king, 'Master, I know you are a strict man and therefore I had put the mina you give me in a handkerchief. I know that you reap what you did not sow and collect what you did not deposit. Here is your one mina.'
And the king said to him, "You evil servant. So you know that I reap what I do not sow and collect what I did not deposit. Why didn't you keep the one mina in the bank so that at least it can earn money from interest?'
After that, the king said to his servants, 'Take away the one mina from him and give it to the servant who has ten minas. Those who have been given from what he does not have will lose what he has. But to those who have been given from what he has will be given more. Bring my enemies who do not want me to rule over them and kill them before me!'"