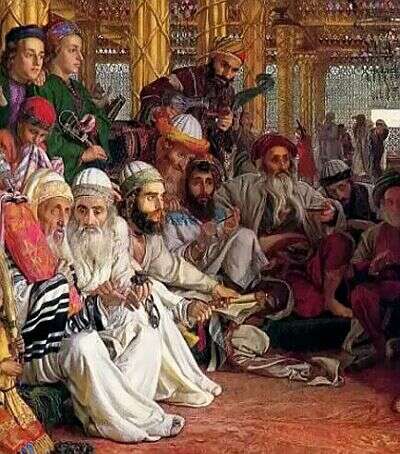 Luke 11:14-23
When the scribes and Pharisees saw Jesus preaching to the crowd and many people are following Him, they said, "He is a mad man. He has a demon. He cast out demons by the power of Beelzebub, prince of demons."
So Jesus said, "How can Satan cast out the demons who are His followers? If a kingdom attacks its own kingdom, the kingdom will fall away.
If Satan rose up against his kingdom, it cannot stand and will fall. No one can enter the house of a strong man.
The plunderer has to first tie the strong man up so that he can enter into his house to steal his goods."
Jesus continued saying, "All sins can be forgiven except the blasphemies spoken against the Holy Spirit. Anyone who speaks blasphemies against the Holy Spirit is subject to condemnation."
Jesus said this because they say He has an unclean spirit.
Then Jesus' brothers and mother came. They stood outside and were calling for Him. The multitude who were Jesus saw Jesus' brothers and Jesus' mother.
And they said to Him, "Your mother and your brothers are outside wanting to see you."
But Jesus replied, "Who are my mother and who are my brothers?"
He looked at the people that gathered around Him and said, "Here are my mother and here are my brothers? Whoever that obey and does the will of God are my mother, my sisters and my brothers."
The strong man in the parable refers to Satan. The plunderer is Jesus. The goods in the strong man's house refer to the evil things that the devil had put in the heart of the demon possessed man. The house is the body of a person.
To bind the strong man is to bind the devil and taking away his authority and power over us.
When Jesus forgives our sins, He binds the strong man. The devil lives in the demon possessed man because of his sins.