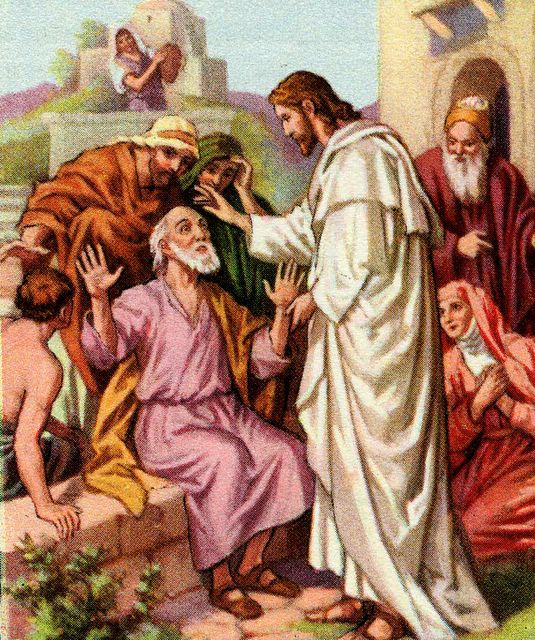 Mark 10:46-52
As Jesus was going into Jericho, a noisy crowd followed Him.
When a blind beggar called Bartimaeus who was sitting by the roadside heard all the noises that the people were making, he asked the people what was the commotion all about.
The people told him that Jesus of Nazareth had came to Jericho.
When Bartimaeus heard that Jesus was passing by Jericho, he shouted, "Lord Jesus, please have pity on me!"
The people heard Bartimaeus and told him to keep quiet. But Bartimaeus don't care about the people, he shouted to Jesus louder, "Lord Jesus, please have pity on me!"
Jesus had compassion on Bartimaeus and asked that he be brought to Him.
The people called Bartimaeus and said to him, "Cheer up. Get up now. Jesus is calling for you."
Bartimaeus quickly throw away his garment to a side and got up and came to Jesus.
Jesus asked Bartimaeus,"What do you want me to do for you?"
Bartimaeus said, "I want to see again." Jesus said to him, "Your eye sight is restored. Your faith has made you well."
At that very moment, Bartimaeus' eyes were healed and he can see again.
Bartimaeus was very happy and immediately he followed Jesus. When the people saw that Jesus healed Bartimaeus, they gave thanks to God for it.
The blind man, Bartimaeus was healed because he believed that Jesus has the power to help him to recover his eye sight and so he asked Jesus to heal him.
Bartimaeus acted in faith and therefore his eyes were healed. Jericho was a place that was under the curse of Joshua, but Jesus still performs miracles at that place.