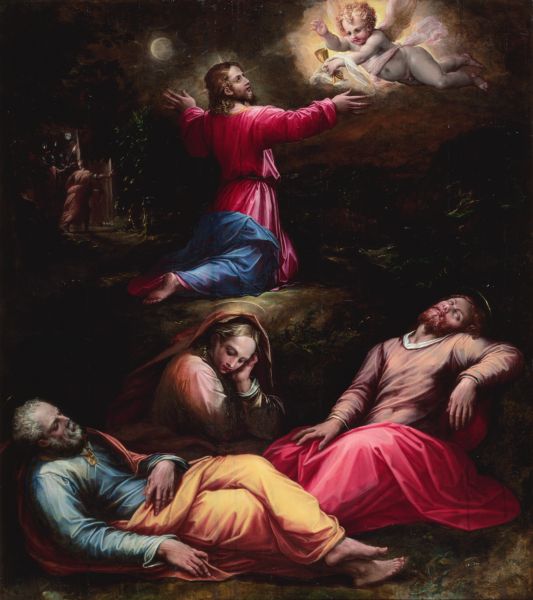 Matthew 26:36-56; Mark 14:32-50; Luke 22:39-53; John 18:1-12
After the last supper, Jesus took Peter, James and John to the Garden of Gethsemane at the Mount of Olives.
Jesus said to His disciples, "Wait here while I go over there to pray."
Jesus started to feel sad and miserable. Jesus knelt down and prayed, "Father, if you are willing, please take this cup from me, yet please do it according to your will." After that, an angel from heaven came to strengthen Jesus.
Jesus prayed furthermore and his sweat dropped onto the ground as if drops of blood falling onto the ground.
When Jesus arose and went back to His disciples, he found that His disciples were asleep.
So he said to them, "Why do you sleep? Keep watch and pray so that you don't fall into temptation. Look, the time has come for the Son of Man to be delivered into the hands of the sinners."
While Jesus was speaking, a group of soldiers led by Judas Iscariot arrived to arrest Jesus.
Judas had told the soldiers that the one whom he greets with a kiss is Jesus. Judas went over to Jesus and greeted Him with a kiss.
Then the soldiers captured Jesus. At that moment, Peter took a sword and cut off the ear of a servant of the high priest.
Jesus said to Peter,"Take back your sword because all who use the sword will die by the sword. Do you not think that I cannot pray for My Father to send 72,000 angels to protect me?"
Then Jesus put together the ear of the servant of the high priest and healed him.
After that, Jesus' disciples forsook Him and they all fled for their lives.