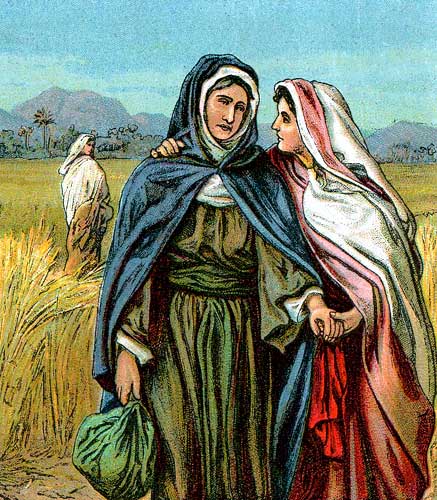 In the days when judges ruled over the Israelites, there was a man named Elimelech who lived in Bethlehem in Judah.
Elimelech and his wife, Naomi has two sons. The two sons were Mahlon and Chilion.
It happened that there was famine in the land and Elimelech moved his family to Moab.
Elimelech died and Naomi was left with her two sons.
Later, Naomi two sons, Mahlon and Chilion each got a wife for themselves. Mahlon married Orpah and Chilion married Ruth.
Mahlon and Chilion both have no children with their wives.
After ten years, Mahlon and Chilion died. Now, Naomi is only left with her two daughters in laws.
One day, Naomi decided to go back to her hometown in Bethlehem. Naomi said to Orpah and Ruth, "Since my sons are dead and you have no children, you should go back to your own family."
Orpah cried and kissed Naomi and then she bade goodbye to her and return to her own people.
But Ruth held on to Naomi, saying, "I will not return to my own people. Your God is my God. If you die, I will die with you. I will follow you to wherever you go."
When Naomi saw that Ruth is determined to follow her, she stop insisting her to return to her father's household. When Naomi and Ruth reached Bethlehem, it was the barley harvest.
Naomi's husband Elimelech had a rich relative called Boaz.
Ruth said to Naomi, "Let me go into the field of Boaz and glean the grains that I will find favor in his sight."
Naomi blessed her and said, "Go, my daughter."
Ruth went and gleaned the wheat left by the reapers in Boaz's wheat field.
Boaz happened to saw Ruth at the field and he asked the workers who she was.
They told Boaz that she was the daughter in law of Naomi who had just came back from Moab.
Boaz then said to his workers, "Make sure you purposely make grains fall from the bundles of wheat barley for her and give her water to drink whenever she is thirsty."
Boaz called Ruth and talked to her. Then he invited her to have a meal with him.
After the meal, Ruth continues to glean in the field until evening.
She beat the wheat that she gathered and it was an ephah of barley. She brought the ephah of barley back and show Naomi.
Naomi said to Ruth, "Tonight, Boaz will be winnowing barley at the threshing floor. Put on your best clothes and perfume and go down to the threshing floor. Don't let Boaz knows who you are until he finished eating and drinking. Boaz will lie down and fell asleep. Then you shall go and lie beside Boaz. After that, Boaz will tell you what to do."
Ruth listened to what Naomi said. She went down to the threshing floor where Boaz is winnowing barley.
After that, Boaz ate and drank and was very merry. Then he lie down to sleep.
Ruth then went in and uncovers Boaz's feet and lie beside him.
In the midnight, Boaz was shocked to found Ruth was laying beside him.
Boaz said to Ruth, "Stay here. I have a close relative. He should perform his duty and marry you. "
Then Ruth lay on Boaz's feet. Later, Ruth woke up to go home.
Boaz then poured out some barley into Ruth's shawl because he doesn't want Ruth to go home to Naomi empty handed.
Boaz remind Ruth not to let anyone knows that she came to the threshing floor. Ruth promised Boaz to keep it a secret and she went back home to Naomi.
The next morning, Boaz went up to the city gate. He saw the close relative sitting nearby and he spoke to him. Boaz then took 10 elders of Israel as witness between him and the close relative.
Boaz said, "Naomi had come back from Moab with her daughter in law, Ruth. Naomi wants to sell her land. Are you willing to buy backNaomi's land and redeem it?"
The close relative answered, "I will buy back the land."
Then Boaz said, "If you buy Naomi's land, you must also marry Naomi's daughter in law who is a widow now so that your inheritance will carry Elimelech's name."
The close relative said, "If this is so, I will not buy Naomi's land. You can buy it and marry Ruth."
At that time, there is a custom concerning exchanging and redeeming: one man should take out his sandal and exchange it.
The close relative took out his sandal and gave it to Boaz.
After that, Boaz purchased Naomi's land and took Ruth as his wife. Boaz laid with Ruth and she gave birth to a son called Obed.
Obed is the father of Jesse. Jesse is the father king David.