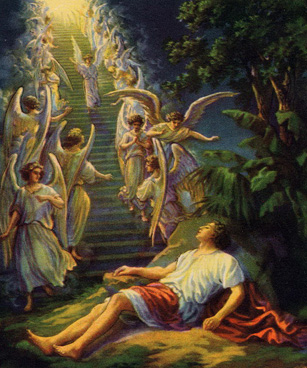 Jacob set out from Beersheba for Haran. When he reached a place, he decided to take some rest from his journey and spend the night there.
So Jacob took a stone to put it under his head as pillow and he lay down to sleep.
Then Jacob dreamed of a ladder that reaches high up into the heaven and angels were ascending and descending from it.
And the Lord said, "I am your God and the God of Abraham and Isaac. I will make your descendants as numerous as the dust of the earth. I will bless you and be with you. I will protect you wherever you go and I will bring you back here."
Jacob woke up from his dream and said, "God is surely present in this place and I didn't realize it,"
And he grew afraid and said, "This is so wonderful. This place must be no other than God's house and the gate of heaven."
So Jacob took the stone that he put under his head as pillow and makes an altar of it. Jacob called the place Bethel although the city is called Luz.
Then Jacob made an oath, "If God really be with me and protect me from harm wherever I go, and give me food and clothes to wear, then He shall be my God. This stone which I had set up as a pillar shall be the house of God and I will give a tenth of all my possessions to God."