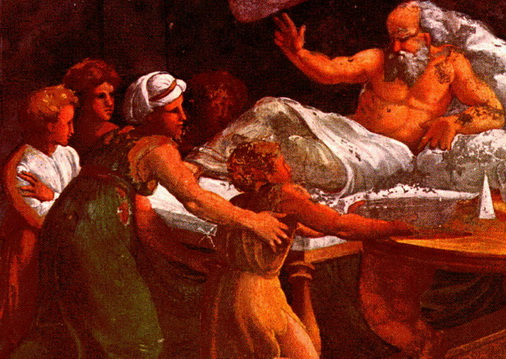 Jacob was getting very old and his eye sight is not clear anymore.
So Jacob called his oldest son, Esau, to him and said," Go out into the wild and hunt a wild game. Then prepare the tasty meal for me so that I can bless you."
After that, Esau went out to hunt game so that he can cook the delicious meal for his father and get his blessing.
Rebecca was eaves dropping on what Jacob is saying to Esau.
Rebecca said to Jacob, "I heard your father telling Esau to go out and hunt a game so that he can cook a tasty meal for him and bless him. Now, go out and get your fattest kids of goat and bring it to me. I will cook the tasty meal. You will bring it to your father so that he may eat it and bless you before his death."
Jacob replied, "Esau is hairy but I have smooth skin. Father will feel me and surely find out I am not Esau and curse me instead."
Rebecca said, "Let the curse be on me and not you. Now go and do what I said."
Jacob did as what his mother told him to do and brought the choicest kids of goats from his flock to her.
Rebecca then cook the delicious meal that Jacob loves to eats.
Rebecca put the kid goat skins on Jacob's hand and neck so that Isaac will not find out that he is Jacob.
Rebecca handed over the delicious meal to Jacob and he brought it to his father Isaac. Isaac didn't know that Jacob is disguising as Esau so he ate the meal prepared by Rebecca and gave his blessing to Jacob.
When Esau came back from hunting, he found out that Jacob disguised as him to steal his blessing.
Esau said, "Is he not called Jacob? First he stole away my birthright. Now he stole my blessing."
Esau was very angry. Esau hated Jacob and made plans to take revenge on Jacob by killing him.
Rebecca overheard of Esau's plan to kill Jacob.
She felt worried about it so she said to Isaac, "I couldn't stand Esau's Canaanite wives. I don't want Jacob to marry any woman from among the Canaanite but from among our family in my homeland. Therefore, please send Jacob to go to Nahor so that he can find a girl there to marry."
Isaac listened to Rebecca and called Jacob and blessed him. Isaac sent Jacob away and Jacob went to Padam Aram to Laban the son of Bethuel in Haran.