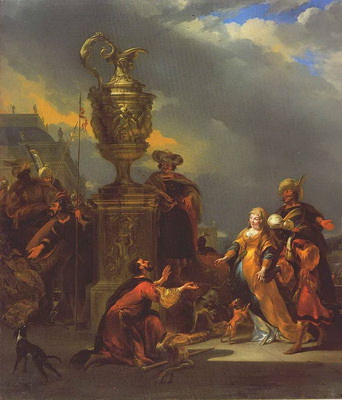 One day, Abraham moved his tent to Gerar. Abraham said of Sarah, "She is my sister," And King Abimelech commanded Sarah to him.
But God appeared in a dream to Abimelech, "You are a dead man for taking Sarah as your wife because Sarah is Abraham's wife." Abimelech was panicked and said, "Lord, I didn't know that Sarah is Abraham's wife because Abraham told me she is his sister.
Sarah even told me that Abraham is his brother." God replied, "I know that you did not purposely do it so I didn't let you touch her. Now stop sinning against Me, and return Sarah to Abraham.
Abraham is a prophet and he will pray for you so that I will restore your household."
So Abimelech woke up early in the morning, and he called for Abraham.  Abimelech said, "What have you done? Why didn't you tell me that Sarah is your wife but instead you told me that she is your sister," Abraham replied," I was afraid of what you will do to me. Sarah is the daughter of my father. She is my half sister anyway."
Then Abimelech took sheep, cattle, and servants and gave them to Abraham. Abimelech told Abraham that he can live anywhere in his territory.  Abimelech also give Sarah 1000 silver pieces to vindicate her and him before everyone that was present.
Abraham prayed for Abimelech and God restored the household of Abimelech. Previously, God had closed the wombs of the house of Abimelech because of Sarah, Abraham's wife.